An Indian who recently shifted to the USA probably will be in search of some Indian Grocery stores. Well, it is obvious to miss India and its authentic Indian dishes. There are many Indian restaurants to satisfy your taste buds, but eating homemade food is something different that can't be explained. If I am not wrong, Indian people prepared themselves to face any situation before leaving India. They find a way to reach out to whatever they want, right? Even if they don't know how to cook, they learn to make food for their own. They look for Indian grocery stores around them, pick their favorite ingredients, groceries and make the tastier Indian dishes.
While shopping for Indian groceries, it is necessary to get the best grocery as they play a significant part in keeping our health stable. And we are in the middle of a pandemic at this time. In such times, taking care of our family health is the main thing we must do. Keeping this in mind, staying home and maintaining social distance is vital. Instead of stepping out for grocery shopping, go online to shop for Indian groceries. So, today we will discuss same day Indian grocery delivery service in New Jersey, USA.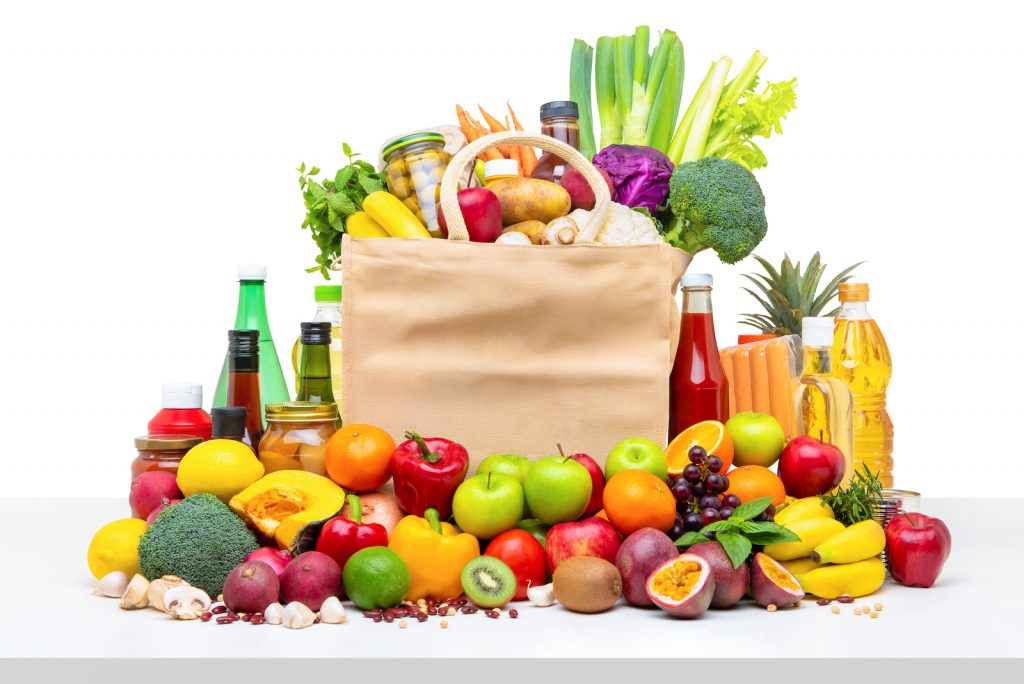 We understand how important it's to eat adequate as well as fresh. We at Kesar Grocery offer you fresh groceries at the best price and you won't regret it. It is a leading NJ and NYC-based largest online Indian food and grocery store. At Kesar Grocery, we understand people's safety and hence we are offering same-day grocery delivery so that you won't have to worry about a thing. If you are keen to know more about what services we offer, stick with us till the very end as we will be taking you on a ride of what Kesar Grocery offers.
All you need to do is log in to kesargrocery.com and look for your desired grocery products from thousands of products and order all of your groceries online. No matter what Indian groceries you need, you will find everything at a single place. We guarantee of your extreme safety because we will drop off your parcel at your doorstep without getting in contact with you. One of the safety aspects that must practice nowadays, right?
People in India have a deep love for fresh desi food and the preparation of authentic Indian food requires some unusual ingredients and skills to make it easy. All the Indian groceries, spices, snacks and beverages, dairy products, frozen food that you loved back home are now available here in the USA at our online Indian grocery store. Brands that you missed like Brittania, Horlicks, MTR, MDH Masala, Haldiram, Gits, Ashirwad, Swad, Vadilal and so on can order online. Prepare the delicious Indian dishes you love the most using those ingredients and if you don't have time to cook, you can also order products from the ready to make and eat category. They get made within few minutes. Grab your favorites packs from our ready-to-eat category.
At Kesar Grocery you will find the following categories and Indian Brand products:
Groceries include noodles, oil-ghee, Jaggery, salt, sugar, spices, pickles & chutney, tea, coffee, snacks and much more.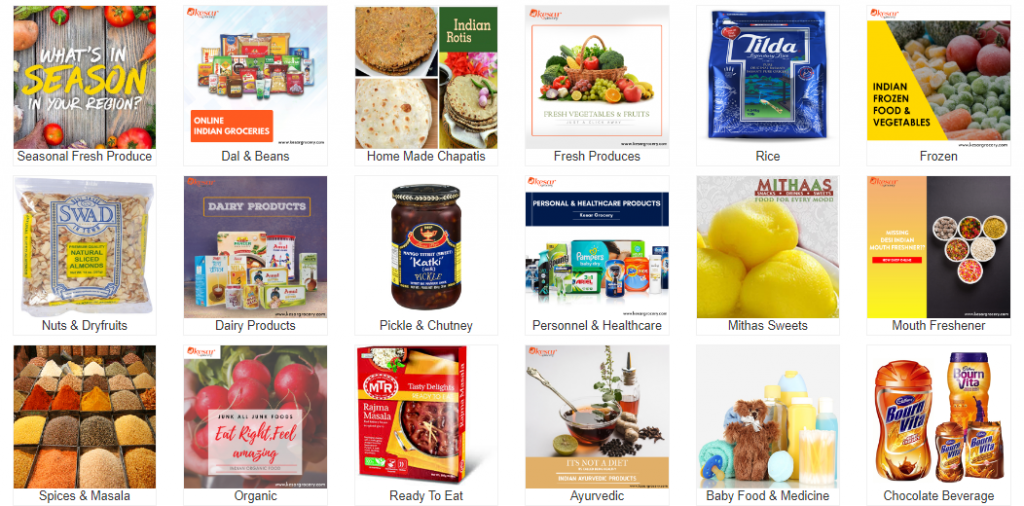 Fresh Produce will include your daily fresh vegetables and fresh fruits with seasonal fruits like Indian mangoes, raspberries, etc.
Frozen Food will include Appetizers like samosa and Aloo Tikki, Punjabi Curries, Paratha and homemade chapatis too.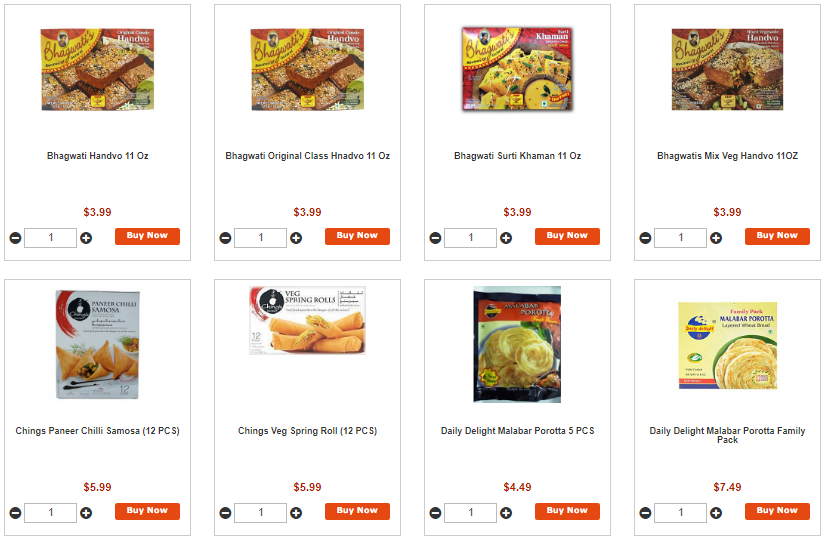 Dairy Products will include Milk, Butter, Paneer, Bread, Yogurt and some Indian Sweets.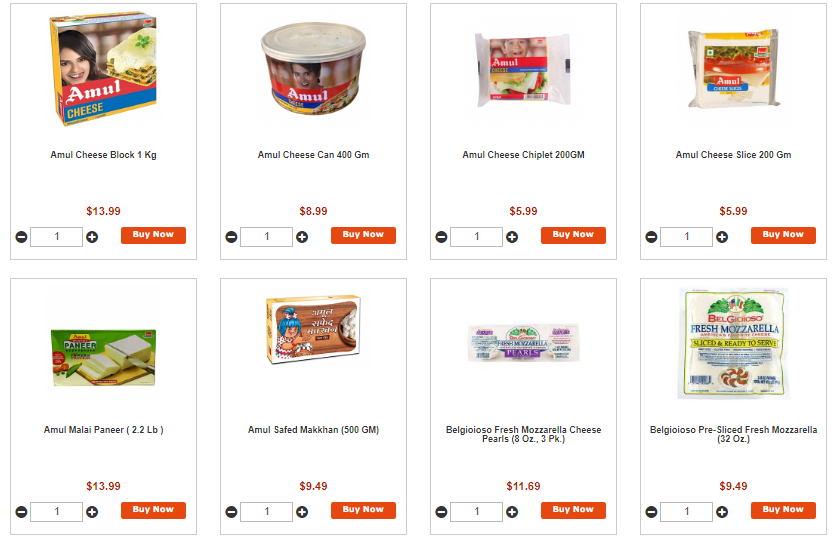 Our online grocery store is a one-stop shop within the USA that offers Free Shipping option and provides fresh and highest quality groceries. Right from fresh fruits and vegetables, Rice & Dals, Spices & Seasonings to Packaged & Frozen products, Beverages, Ready to Eat, Snacks – we have it all. A wide range of options is available for every category, a complete online store where you get everything you look for. Make an online order of quality Indian staples from your favorite brands which you have trusted for years back in India. It will facilitate you to prepare your choice of Indian cuisine.
Sometimes, you don't have time to go for shopping Indian groceries nearby grocery store that carries traditional Indian items and going after working all day long can be a challenge in following ways:
It increases the cost like parking fees, gas or fuel
You have to wait in queues at counter for check-out
Consumes more time
Some products might unavailable
At this time, ordering online and getting your Indian grocery delivered to your home is the best alternative. With Kesar Grocery, you can order Indian groceries online from anywhere in the USA. So, you don't have to travel far and you can spend quality time with your family and friends.
We are sure that we have sorted your grocery element in a very subtle way by offering to you the best Indian groceries online and making online grocery shopping easier for you. Grab from a variety of fresh Indian groceries and enjoy them to the fullest from the comfort of your home. Shopping at kesargrocery.com is just like having an Indian grocery store near you with the convenience of getting it shipped to your preferred address.