Winter is the perfect time to snuggle up in your blankets and binge on the heartiest winter recipes in your home. One feels hungrier in cold weather because the reduction in temperature increases hunger. It's that time of year when our bodies tend to crave hot and spicy foods that make us feel warmer. Certain Indian winter groceries like ghee, cardamom, ginger, dates, garlic, bajra, spices, til, hot soups, and many others can help maintain your body's temperature. So, Buy groceries online from Kesar Grocery!
Specifically, many winter-specific superfoods are available that can help battle the cold weather. Along with consuming these foods, staying hydrated, drinking plenty of water, and limiting your intake of sugary, processed foods and drinks are also important during this season. Anxious about calories? Get rid of these thoughts and jump into the lusciousness of these freshly prepared winter plates.
Your body requires a balanced diet to stay warm and receive the nutrients it needs for good health. Therefore, it would be best to prepare and indulge yourself in traditional Indian recipes, especially for the cold season. Here are the top five amazing Indian recipes that are a must on your winter food list! Do try out these traditional Indian winter recipes at least once in 2023.
1. Undhiyu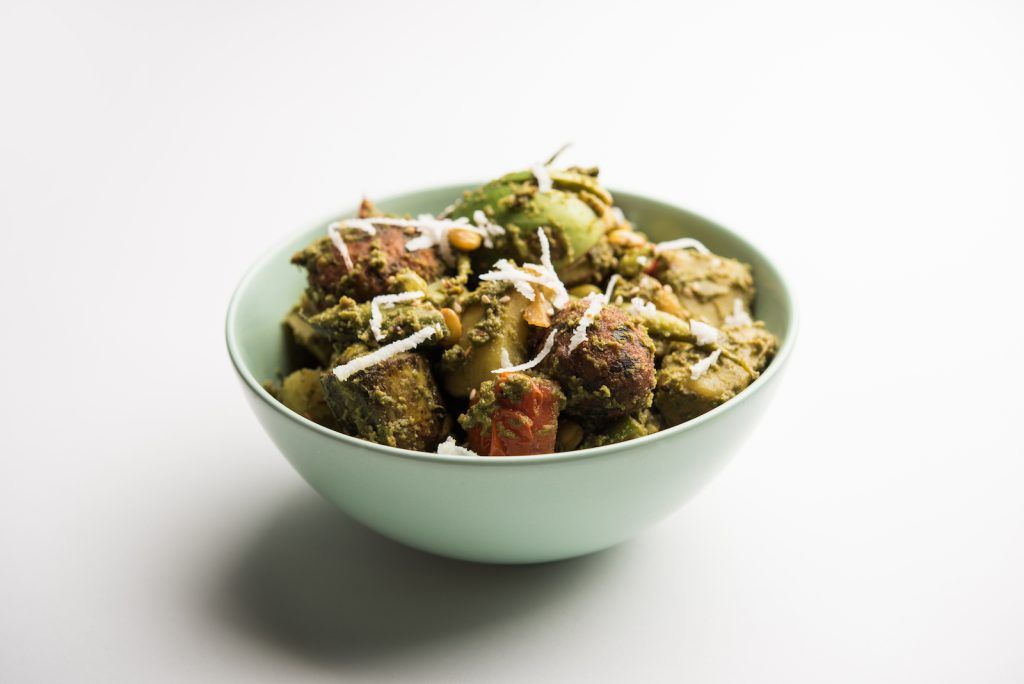 The best winter recipes in India are extremely rich, but this delicacy stands out because it is both flavorful and healthy. Undhiyu is a Gujarati specialty for the winter. It is prepared with fresh seasonal produce, mixed vegetables, fenugreek, ghee, herbs, and spices.
Undhiyu, traditionally slow-cooked (or steamed in an earthen pot) with groundnut oil, uses a variety of vegetables with spices that are cooked to perfection. Therefore, it gives the body all the necessary vitamins, minerals, antioxidants, and fibre and has a nutritious taste. It also uses green garlic, which is abundant during this winter season. These tiny garlic bulbs with dark green stalks have a delicious flavour. They are natural antibiotics, so they can combat digestive infections, boost immunity, and be great for the heart. So, it is a good example of healthy winter food in India. An undhiyu recipe eventually takes a lot of time to make, so it requires patience.
2. Indian Mashed Eggplant (Baingan Bharta)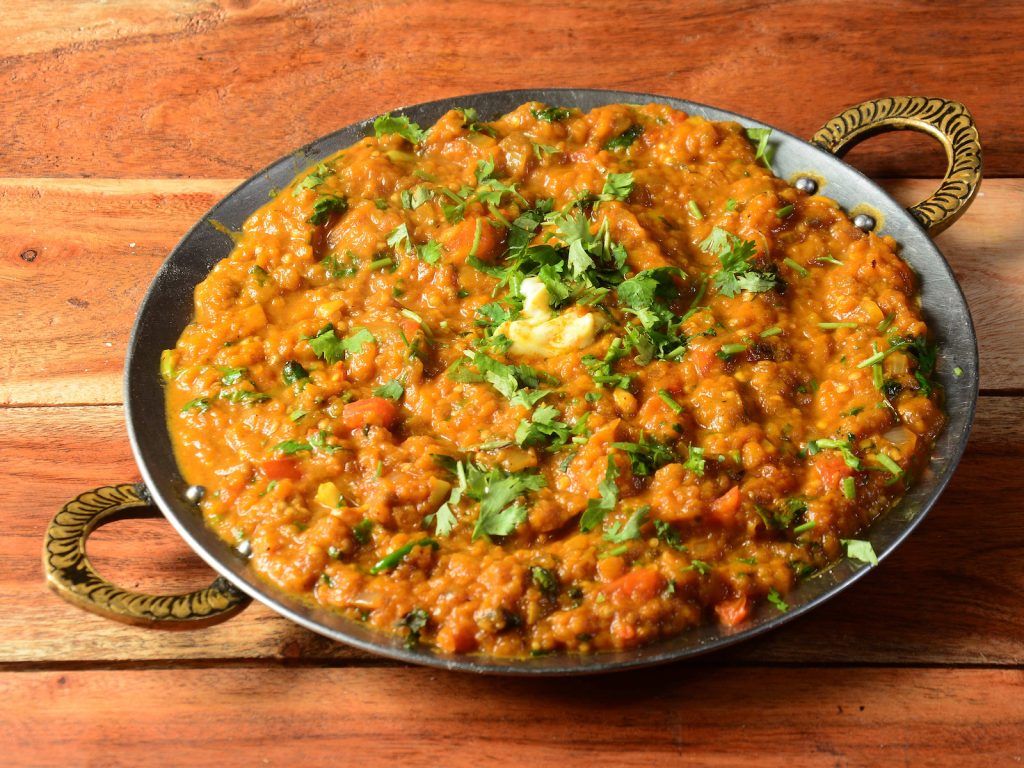 Baingan bharta is a popular traditional winter dish from North Indian cuisine. It is a delicious dish of smoky mashed eggplant with a sauteed, tangy, and spicy flavour. The Hindi word baingan means eggplant, aubergine, or brinjal in English, and bharta means mashed.
Baingan bharta is made with a mash of roasted eggplant and cooked with tangy tomatoes, onions, ginger, and green chillies to get the perfect taste. The eggplants are roasted or grilled over a direct flame on the stovetop or over red-hot charcoal, imparting a smoky flavour and taste. It is a simply delicious family heirloom recipe for eggplant bharta that is not overly spiced so that the roasted eggplant's smoky flavours and the tanginess of the tomatoes shine through in your dish. Serve it as a main course with Gujarati-style, healthy Bajra rotla (pearl millet roti).
3. Green Garlic Vegetable (Hare Lehsun Ki Sabzi)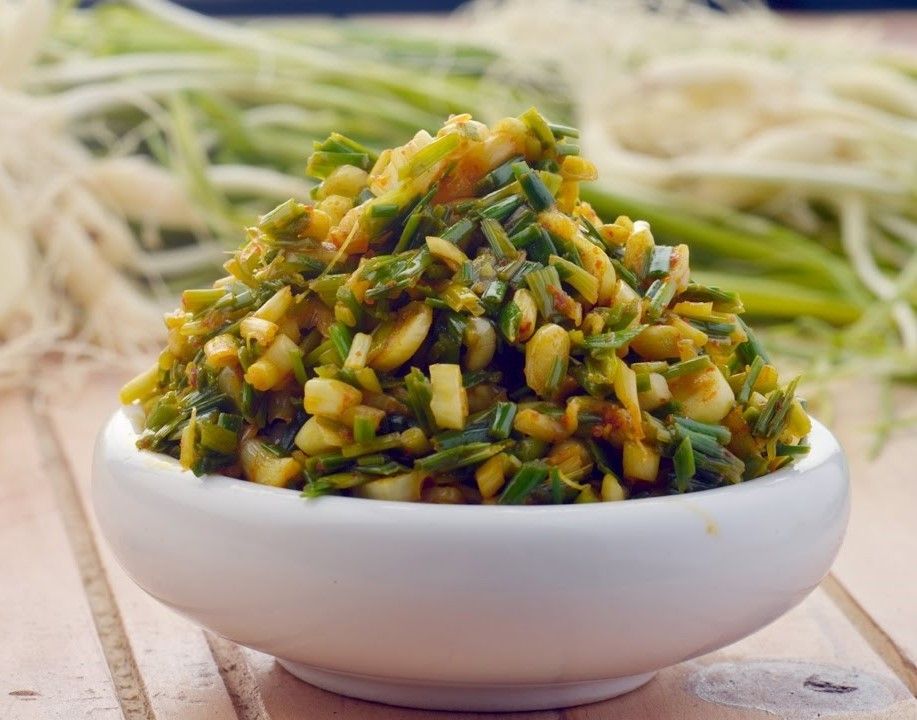 Fresh green garlic is one of spring's edible veggies. And here is a wonderful winter-special green garlic vegetable recipe. It is an extremely quick recipe made in the blink of an eye. It is ideally served with bajra rotla (pearl millet roti) loaded with ghee. Keep all the ingredients prepared; it takes just a minute to prepare this Hare Lehsun Ki Sabzi.
Do you have a long or exhausting day? Hare Lehsun Ki Sabzi is an excellent choice. All you need to do is melt some ghee in a pan, add some chopped green garlic, and then some salt, turmeric, and chilli powder. Ensure to heat the ghee very well because the rest of the procedure involves mixing the remaining ingredients, which are automatically cooked in the heat of the ghee. Compared to other recipes, use less salt while making it.
4. Spiced Mustard Green Curry (Sarson Ka Saag)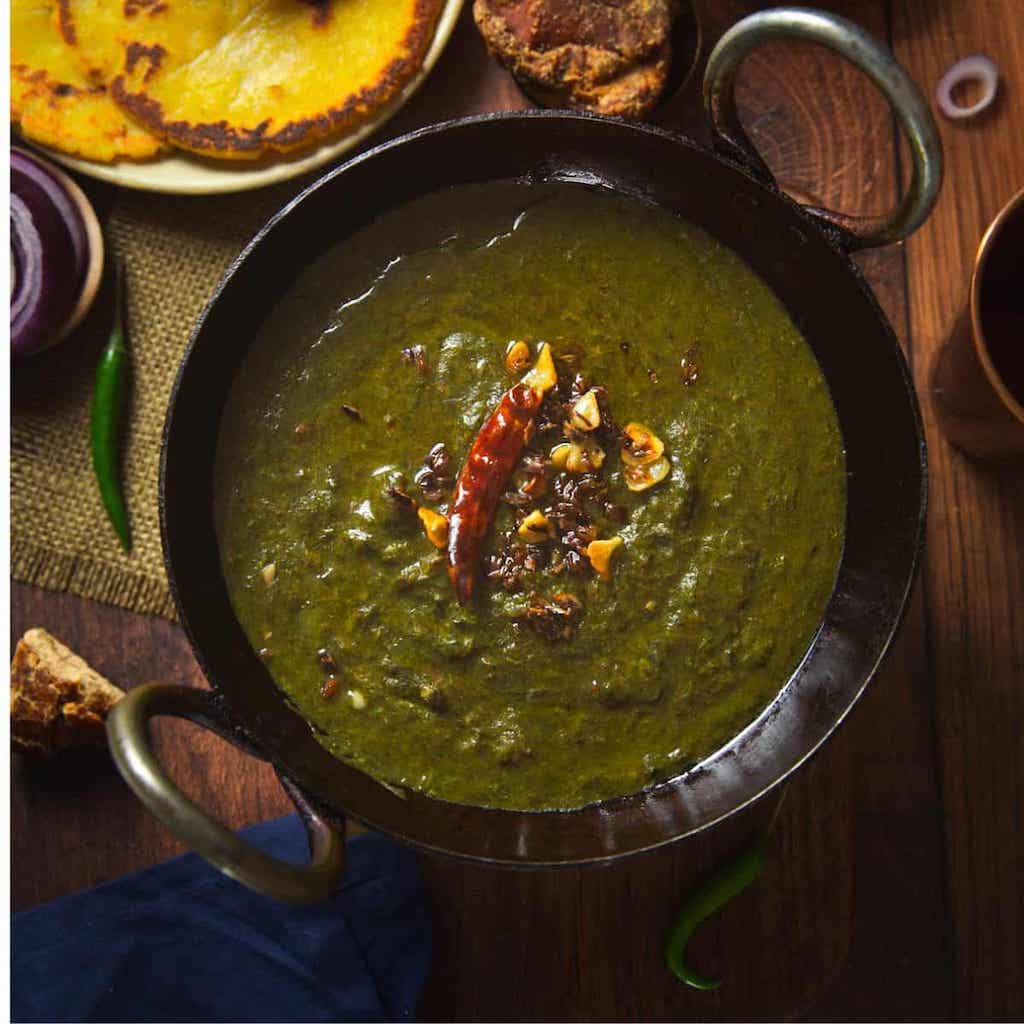 Another winter-special recipe, Sarson ka Saag, is a classic Punjabi delicacy made with mustard leaves and spinach. It's peppery, savoury, and packed with nutrients thanks to a combination of green leafy veggies. Green mustard leaves, bathua leaves, and spinach leaves are cooked with tomato, ginger, garlic, green chillies, and corn flour and then crushed into a smooth puree. This puree is tempered with stir-fried onions in ghee for aroma and flavour. It is traditionally served with Makki di Roti, an unleavened corn-based flatbread, though it can also be served with paratha and steamed basmati rice. Sarson ka saag is best with a white butter dollop that enhances its flavour. It is a healthy and quintessential winter meal!
On the other hand, this combination is high in antioxidants, which boost your immunity, reduce inflammation, and protect you from lung diseases. Making this authentic dish is not difficult, but it does take some time. However, you won't mind the effort once you taste how creamy and delicious it is!
5. Pearl Millet Macaronic (Bajra Khichdi)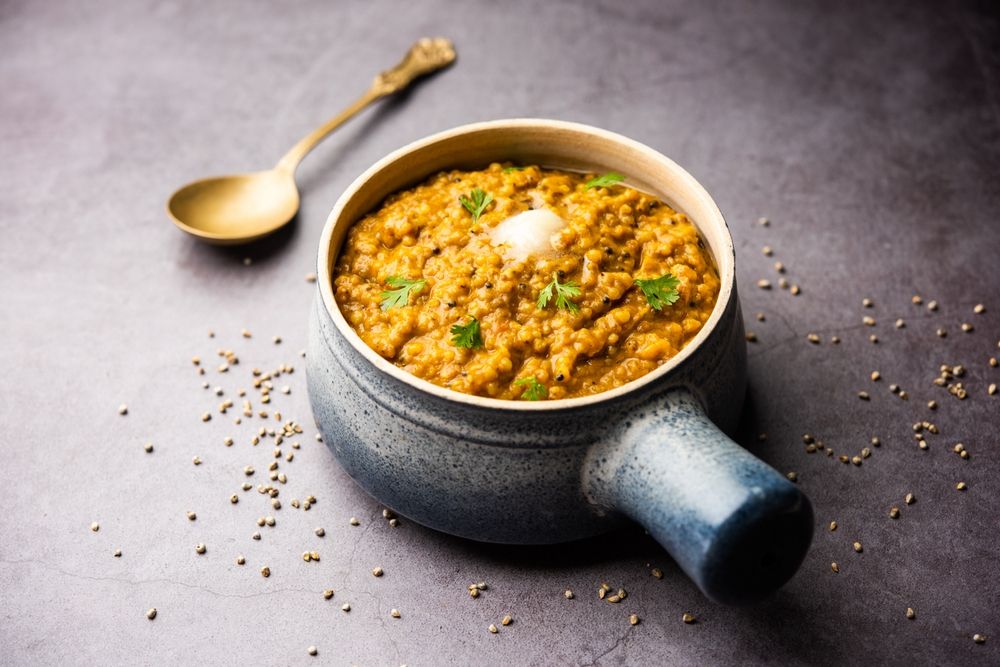 In the winter, nothing is more soothing than a steaming bowl of khichdi. The word 'Khichdi' gives us a warm and fuzzy feeling on the inside. This Bajra Khichdi recipe is a rich source of protein and a nutritious Rajasthani-style dish. It is prepared with bajra (pearl millet), mung lentils, mixed vegetables, ghee or oil, green chillies, ginger, whole spices, dry spices, and coriander leaves. This recipe tastes good, as ghee and jeera give it a delicious aroma and flavour. It goes well with buttermilk, Rajasthani kadhi, and fresh curd. While serving, drizzle it with ghee.
Bajra (Pearl Millet), one of the world's healthiest and most nutrition-packed millets, has a high energy-low glycemic index and is high in insoluble fibre, essential amino acids, and minerals. It is warm, making it good to consume in the winter.
Final Thoughts
So now you know the Indian winter dishes that will keep you warm and satisfy your palate. Take advantage of the opportunity to consume as many winter foods as possible and make your wintertime special with these delicious delicacies.
Kesar Grocery, the best online supermarket, offers a variety of enticing, fresh Indian flavours and ingredients. You can order groceries from Kesar Grocery, an online grocery store, to prepare your traditional winter recipes and feel the cosiness of delectable and original Indian tastes.
Online shopping for food is easier with us! Let the savories of these winter season dishes melt in your mouth, keeping you warm and bringing out the best in the bitter cold.