Indian food is recognized for its exquisite flavors and fragrant spices. Many people think that the preparation of Indian cuisine is scary and difficult. However, regular Indian meals do not require complicated cooking methods or ingredients. They are quick and easy Indian recipes that can be prepared in less than an hour, not less than 30 minutes. Start with some simpler recipes that will not deter you.
If you've decided to try Indian foods at your place, don't be overwhelmed. Especially beginners who are unfamiliar with Indian cooking may find it challenging. However, you can also attempt several delicious and simple recipes as a beginner. These recipes are made with basic ingredients and taste delicious. This primary Indian ingredients and spices is becoming more widely available at the best online supermarket.
Here, in this blog, you can discover five easy and delicious Indian recipes for beginners that use ingredients found at any Indian grocery store. Once you're done making them, you will want to pat yourself on the back.
5 Easy and Delicious Indian Recipes for Beginners
1. Aloo Gobi Ki Sabzi (Potato and Cauliflower Curry)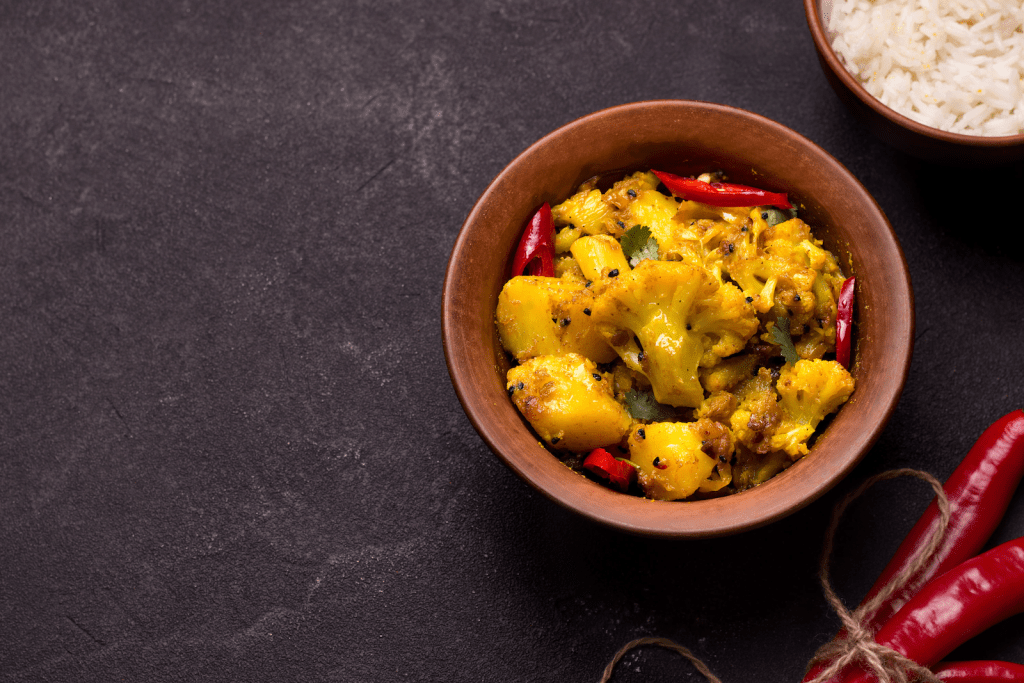 Here is a quick, easy, delicious recipe for typical Aloo Gobi Ki Sabzi. It is a yummy dish that goes well with chapati and raita. In any North Indian household, it is a very common dish. Cauliflower is high in fiber, which boosts metabolism and helps with effective weight loss. This low-calorie Aloo Gobi Ki Sabzi can be served for lunch or dinner.
Ingredients:
1 medium Cauliflower (Gobi), cut into florets
2 small Potatoes (Aloo), peeled and cubed
1 tbsp Vegetable oil
½ tsp Jeera (Cumin Seeds)
¼ tsp Ajwain (Optional)
¼ tsp Red chilli powder
½ tsp Turmeric
½ tsp Coriander powder
½ tsp Garam masala
Salt to taste
2 minced garlic cloves
Green chopped coriander for garnishing
Procedure to Make Aloo Gobi Ki Sabzi:
Over medium heat, warm the oil in a pan and add cumin seeds.
Once the Jeera begins to crackle, add the potato and sauté until softened, about 5 minutes.
Check if the potatoes are half done; add the julienned ginger, minced garlic, and cayenne pepper. Fry them well for 1 min.
Add Red chilli powder, coriander powder, turmeric, salt, and ajwain (optional) to the pan. Stir until fragrant.
Add the cauliflower florets and mix them properly. Cover the pan and let it cook on steam for 15 to 20 minutes.
Occasionally check on the cauliflower until the vegetables are tender. If it is done, add garam masala and stir gently.
Garnish with freshly chopped green coriander.
Serve the heated Aloo Gobi Ki Sabzi with hot chapati or parathas.
2. Chana Masala (Spiced Chickpeas)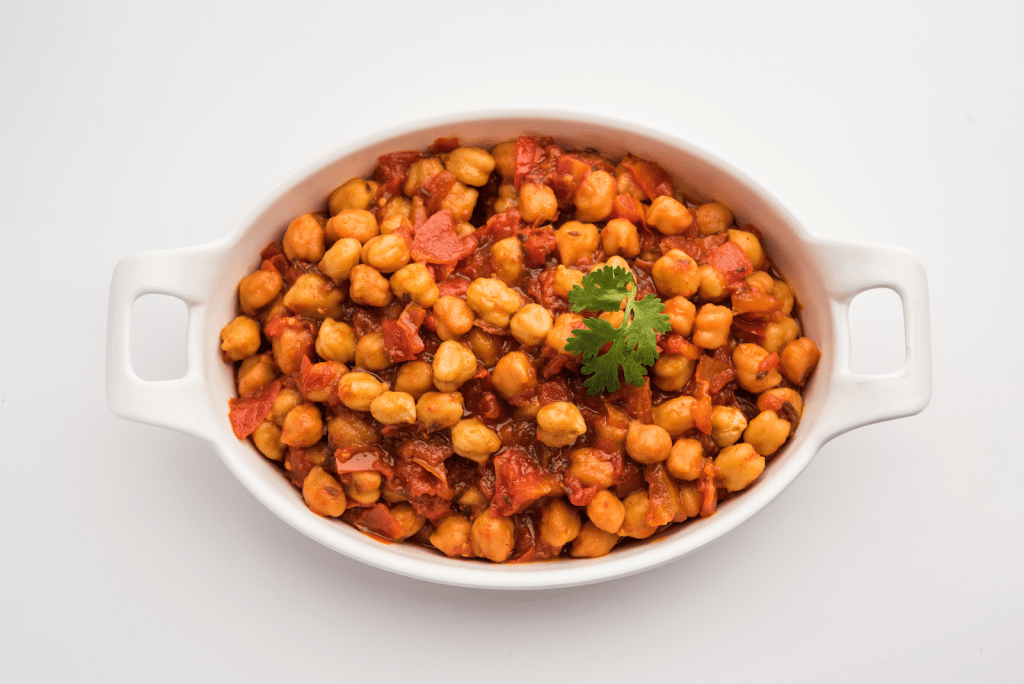 Chana masala is a renowned vegetarian delicious dish with chickpeas and an aromatic spice blend. It's simple to prepare and serves well in lunch boxes, on the go, and as a breakfast item. It tastes great with rice or poori. These chickpeas are very nutritious and loaded with protein. Prepare them and top them with cucumber, tomatoes, green chilies, and fresh green coriander garnish, which can become a protein-rich salad.
Ingredients:
1 can of chickpeas, drained and rinsed
2 tbsp Ghee or vegetable oil
1 chopped onion
1 chopped tomato (Optional)
2-3 Green chilies (slit)
1 garlic clove (minced)
1 tsp Cumin seeds (Jeera)
1 tsp Red chilli powder
½ tsp Turmeric
½ tbsp Chaat masala
1 tsp Garam masala
1 tsp fresh Coriander powder
Salt to taste
Chopped cilantro for garnish (optional)
Procedure to Make Chana Masala:
Wash some chickpeas and let them soak in water all night. Soaked chickpeas will be doubled in size in the morning.
Remove that water and boil them with ½ tsp salt and 3 cups of water. After some time, check if it's done or not by squeezing the chickpeas between your fingers. If you feel it's not done, boil them again for some time.
Later, separate the water from the chickpeas, as we'll only use boiled chickpeas.
Over a medium flame, heat the oil or ghee in a pan and add cumin seeds. When cumin seeds crackle, add the slit green chilies, chopped onion, minced garlic, chopped tomato (optional) and sauté until softened, about 5 minutes.
Then add red chilli powder, coriander powder, turmeric powder, garam masala, chaat masala, and some salt. Be cautious of salt as added while boiling. Stir until fragrant.
Add the boiled chickpeas and chana water (if it's too dry) to the pan and bring to a simmer. Let it cook for 3–5 minutes or until the chana attains an oil sheen.
Garnish with chopped green cilantro and serve with poori, rice, or salad.
3. Jeera Rice (Cumin Rice)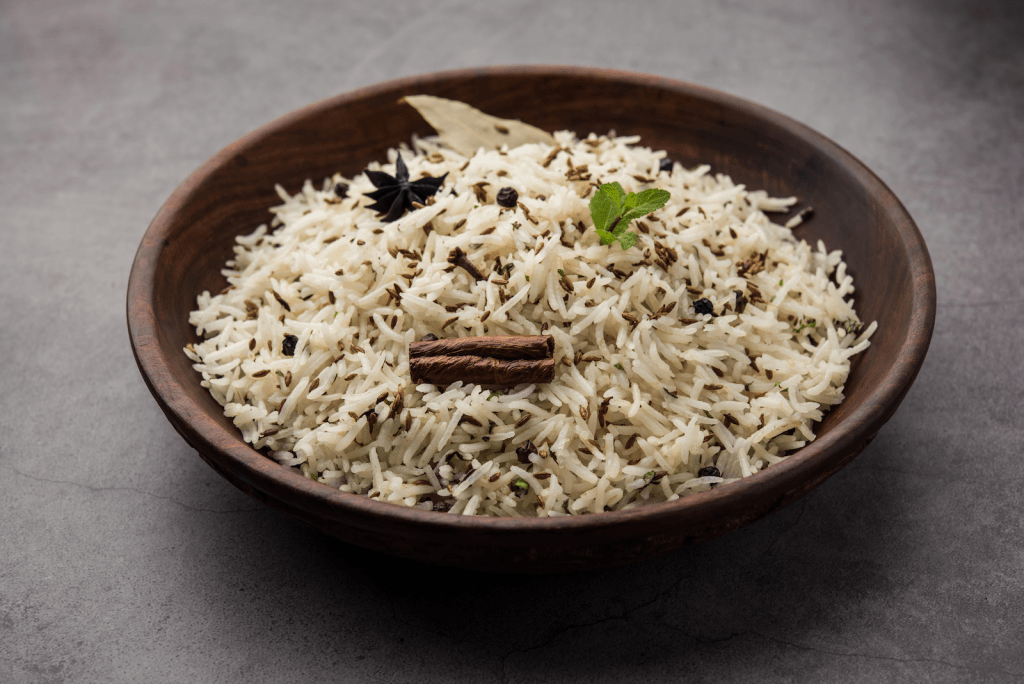 The Jeera rice dish is incredibly simple and adaptable, flavored with cumin seeds. The cumin gives the rice a beautiful flavor and aroma. It is really difficult to oppose them. Jeera rice is a great option for not making elaborate rice dishes like pulao or biryani. All age groups like it. It improves the taste of other main course dishes such as Dal Makhani, Shahi Paneer, Rajma, and Chole. Serving plain jeera rice with Dal tadka or Boondi raita is also delicious.
Ingredients:
1 cup Rice
2 cups of Water
1-2 tbsp pure desi Ghee
½ tbsp Jeera (Cumin seeds)
Procedure to Make Jeera Rice:
Rinse rice 4 times with plain water and leave them in water for 30 mins.
Take a flat surface pan, add 1 tbsp ghee, and heat it on a medium flame.
Add cumin seeds and wait for them to sputter with a golden-brown color.
Then add 2 cups of water to it. Once the water begins to boil, add soaked rice to it. Rice-soaked water should be removed.
Cover it and cook for 12 to 15 mins on low flame.
When rice is cooked, use a fork to stir, as it helps to separate each grain.
Leave the lid open; otherwise, the steam will keep cooking the rice.
It is always better to cook Jeera rice closer to serving time.
4. Dal Tadka (Lentil Soup)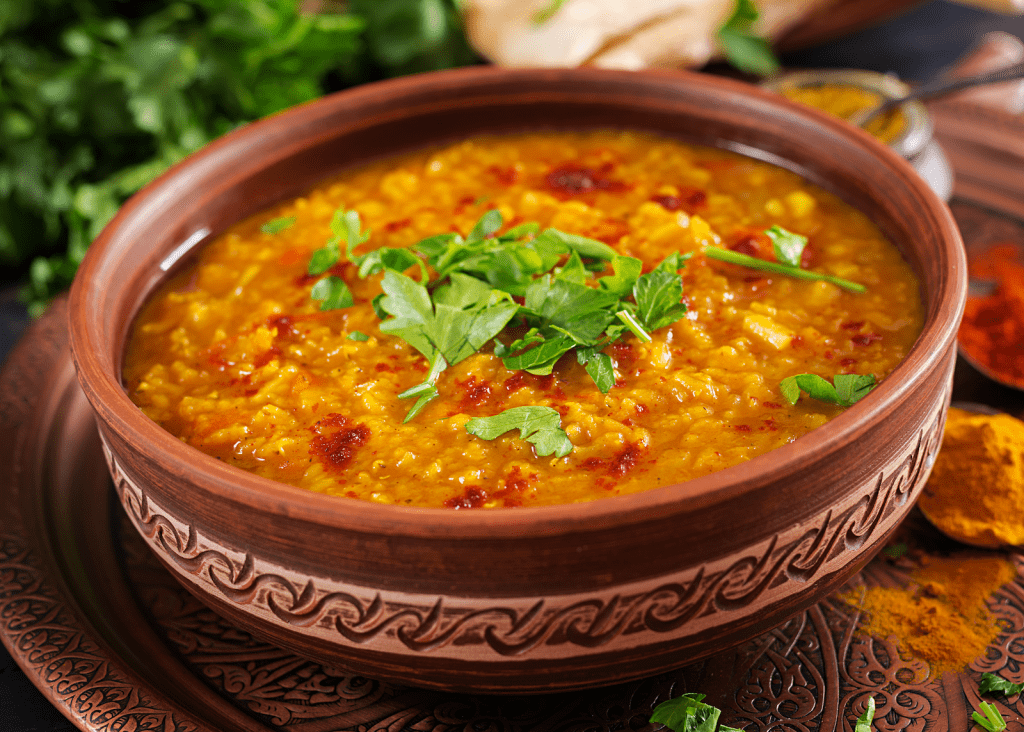 Dal Tadka is an easy and delicious simple recipe. It is very palatable and full of protein. It tastes fantastic with Tandoori naan, Steamed rice, or Jeera rice. Let's discover how to prepare dal tadka.
Ingredients:
1 can of Toor Dal (Split Pigeon Peas)
1 medium Onion (chopped)
1 medium Tomato (chopped)
1–2 Green chili (lengthwise slit)
1″ finely grated Ginger
½ tsp Turmeric
¼ tsp Red chilli powder
1 tsp Kasuri Methi (Dried Fenugreek Leaves)
Salt to taste
Chopped coriander leaves
¼ tsp Hing (Asafoetida)
4 – 5 Garlic Cloves (minced)
1 tsp Cumin Seeds (Jeera)
1 tbsp Ghee (Clarified Butter)
Procedure to Make Dal Tadka:
Rinse the Toor dal (lentils) and boil them in 3 cups of water, salt, and turmeric in the pressure cooker for 3–4 whistles or until the lentils are soft.
Warm the ghee over medium heat in a separate pan and add the Hing.
Instantly add the cumin seeds. Add the chopped onion and finely grated ginger when the cumin starts sputtering.
Fry the onions until they are tender and reddish. Then chopped garlic is added. Stir until the smell of raw garlic is eliminated.
Later, add chopped tomatoes and green chilies. Fry it for 2–3 minutes until it gets mushy and softens.
Add red chilli powder, turmeric, Kasuri Methi, and salt to the pan. Now add boiled Dal without scorching these spices and mix them nicely.
Top with chopped coriander leaves as a garnish and serve with rice or naan.
Heat ghee in a skillet with the red chilli powder and pour it over the Dal before serving. It will enhance the flavor of Dal Tadka; however, this step is optional.
5. Paneer Bhurji (Scrambled Paneer or Cottage Cheese)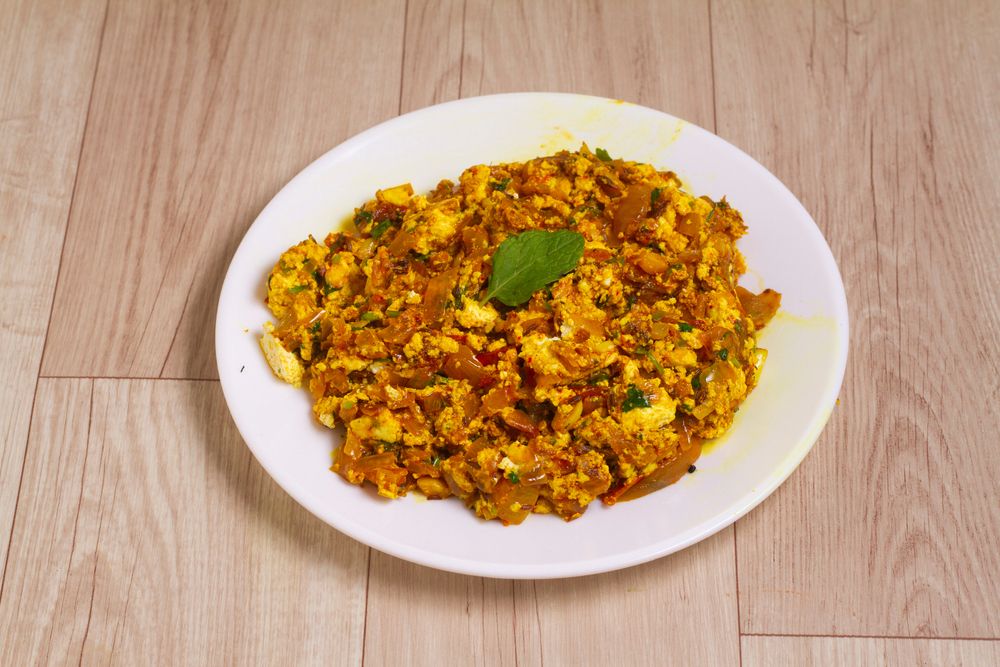 Paneer Bhurji is a well-known and delectable North Indian vegetarian recipe. It is the perfect breakfast dish made from crumbled paneer or Indian cottage cheese. With just the proper amount of spices, this tasty Indian scrambled paneer is loaded with flavors. Here is a Paneer Bhurji recipe that is quick and simple. Before preparing Paneer Bhurji, crumble paneer or cottage cheese (as required) with your fingers and keep it aside in a bowl. It is simple to crumble paneer due to its softness. Avoid making a crumble that is ultrafine or fine. Cut the green chilli pepper, tomatoes, and onions into small pieces.
Ingredients:
200 to 250 grams of crumbled paneer (cottage cheese)
2 tbsp oil
1 medium onion (chopped)
1 medium tomato (chopped)
3 green chilli peppers (diced)
2 tsp ginger-garlic paste
Chopped cilantro leaves
½ tsp Turmeric
1 tsp Coriander powder
½ tsp Ground Cumin (Jeera powder)
¼ Kashmiri Red chilli powder
Salt to taste
Procedure to Make Paneer Bhurji:
Take a large skillet and warm the oil over medium heat. Add cumin seeds and let them sizzle until the cumin starts to change color.
Later, add the chopped onions and diced green chilli. Add 1 teaspoon ginger-garlic paste and sauté them until golden brown.
Add the finely chopped tomato. Sauté tomato on medium-low heat and add turmeric, coriander powder, ground cumin, Kashmiri red chilli powder, and salt to taste. Mix very well and cover the pan for almost 2–3 minutes.
Once the tomato is softened, add the crumbled paneer. Combine thoroughly and cook the paneer over low heat for 1 minute. Don't overcook the paneer because it will harden and lose its softness.
Add half of the chopped cilantro leaves and stir well.
Release from the heat. Garnish with remaining chopped cilantro and serve with lightly toasted bread, paratha, or roti.
Final Words
You can search for a long list of "quick and easy Indian dishes" online. But the Indian recipes detailed above are ideal for beginners who crave Indian food and need to cook something quickly. These Indian recipes utilize simple techniques that are neither time-consuming nor difficult. They include a few essential spices and ingredients, which can be readily available at any online grocery store.
If you have trouble finding specific spices or ingredients, like asafoetida or curry leaves, you can go to Kesar Grocery. They will assist you in stocking up on all groceries required to make Indian food frequently for your meals. The truth is that cooking Indian food can be easy with suitable spice and ingredient substitutes. You can order groceries and Indian spices online to get essential ingredients on your doorstep using our grocery store delivery services.
Start preparing your Indian food with Kesar Grocery!