India is a country of culinary delights, well-recognized for its wide range of regional cuisines. Every area is proud to have its distinctive tastes, ingredients, and culinary traditions that have been handed down from generation to generation. At Kesar Grocery, we have carefully chosen a variety of celebrated Indian delicacies that highlight the greatest aspects of this culinary diversity.
From aromatic spices and herbs to delectable sweets, we provide a treasure trove of delicacies that will take your taste buds out in India's bustling streets and buzzing kitchens. Be ready to relish the mouthwatering flavors of Indian treats like fragrant Vada Pav, spicy Pav Bhaji, crispy Kachoris, tangy Dabeli, and decadent desserts that will leave you seeking more. If you're a fan of the vibrant flavors of Indian cuisine, we have something to meet every palate.
We encourage you to browse our online store and go on an unforgettable culinary journey. We acquire high-quality ingredients to assure the authenticity and freshness of each dish. We're here to help you to discover famous Indian delicacies, whether you're an experienced connoisseur of Indian food or someone who likes to find out about the magic of Indian tastes for the first time.
Set yourself to experience the culinary delights of India right here at Kesar Fresh Kitchen. Embrace the diversity, richness, and pure delight that Indian cuisine brings to your dining table.
Get Famous Indian Delicacies from Kesar Fresh Kitchen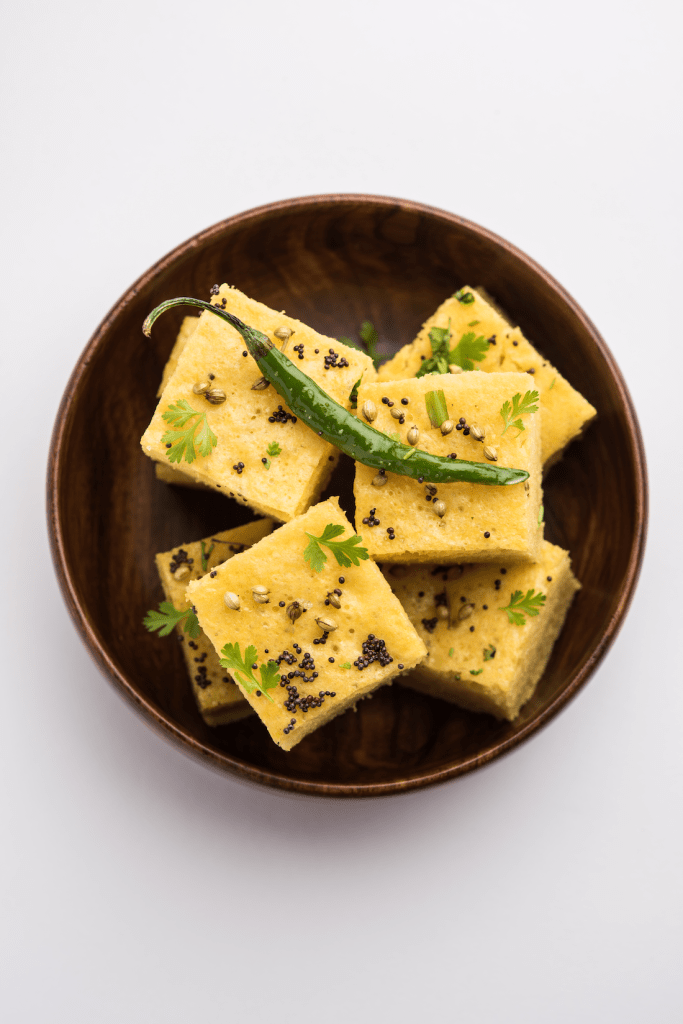 Khaman Dhokla is a deliciously soft and fluffy, mildly sweet and savory cake. It is ideal for eating at any time of the day. Khaman Dhokla is also known as Khaman in other states, and it is a celebrated delicacy from Gujarati cuisine. Khaman is often referred to as Besan dhokla or yellow dhokla because of its yellow color.
It is made from fermented chickpea flour or gram flour (Besan), spices, and herbs. It is garnished with a tempering of mustard seeds, sesame seeds, curry leaves, and green chilies. After that, topped with freshly cut cilantro leaves and grated coconut. Also, it is served with green mint chutney, coriander chutney, or garlic chutney.
In addition to being vegan, Khaman is a nutritious, savory-sweet treat that you can enjoy fresh and cannot resist on your breakfast table.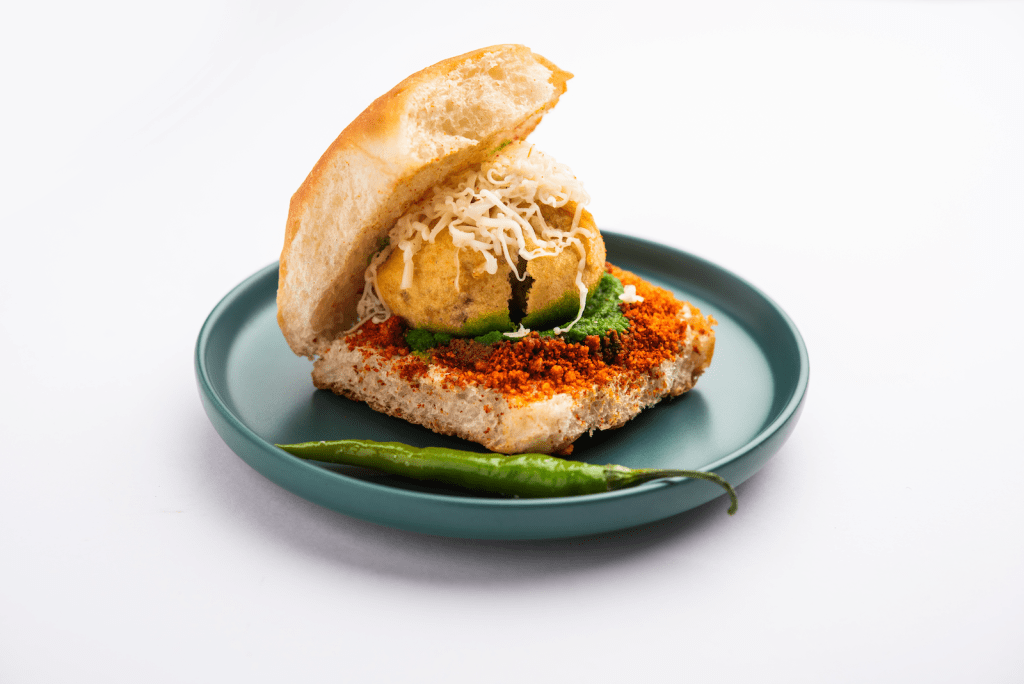 Coming from Mumbai's busy streets, Vada Pav has become a part of the city's street food culture. It is commonly called the "poor man's burger" and is extremely fulfilling. The centerpiece of Vada Pav is a hot potato fritter (Vada), which is encased in a soft bun and served with a variety of chutneys, including garlic, tamarind, and green chili.
Traditionally, this Vada is prepared by mashing boiled potatoes with an assortment of spices, dipping them in a chickpea flour batter, and deep-frying them till golden and crispy. Vada Pav's blend of textures and flavors makes it a satisfying and tempting street food choice.
This delicacy is excellent for any time of day, whether you enjoy breakfast, lunch, or afternoon tea. It will always be stealing away your heart as it is simply irresistible for your food cravings!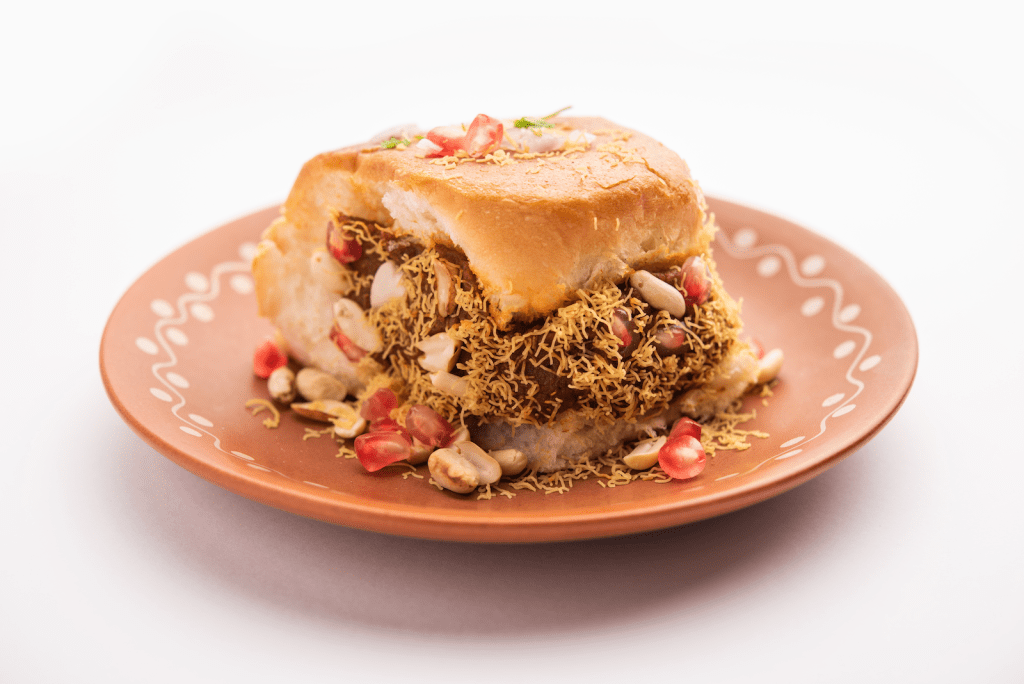 Dabeli is a mouthwatering street food from India. Its huge popularity may be attributed to its unique flavor profile, which combines sweet, tangy, and spicy ingredients with pleasant textures. It involves preparing a spiced potato filling, which entails mashing and sautéing boiling potatoes with a tasty mixture of spices. The flavorful mixture is then packed in a soft pav (bun), gently buttered and toasted.
A tangy and spicy tamarind chutney and a garlic chutney are liberally put on the inner surface of the pav to further intensify the flavor. The stuffed pav is then decorated with crispy sev (chickpea noodles), roasted peanuts, a handful of pomegranate seeds, and freshly chopped cilantro leaves. The softness of the pav, the spiciness of the filling, the tanginess of the chutneys, and the crunchiness of the toppings all combine to deliver a perfectly tempting and gratifying street food feeling.
Get ready to have your taste buds tantalized by this fast-food delight from Kesar Fresh Kitchen that illustrates the spirit of India's culinary tradition.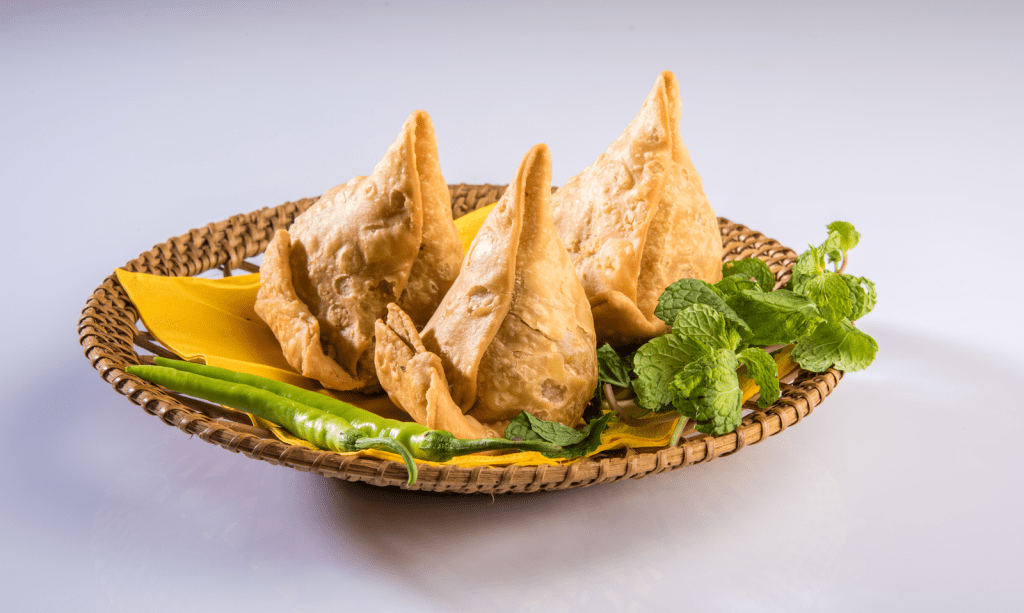 Samosa is a famous Indian snack that has achieved worldwide recognition. This pyramid-shaped pastry is created with a flaky, deep-fried dough that wraps a delectable filling of spiced potatoes, green peas, onions, aromatic herbs, and sometimes minced paneer or lentils.
Samosas are often served hot and crispy, accompanied by sour tamarind sauce or zesty mint chutney. They are not just iconic street food items but are also enjoyed at special events and tea-time gatherings.
If you are feeling hungry, take a break and enjoy the sizzling and spicy flavors of samosa from Kesar Fresh Kitchen.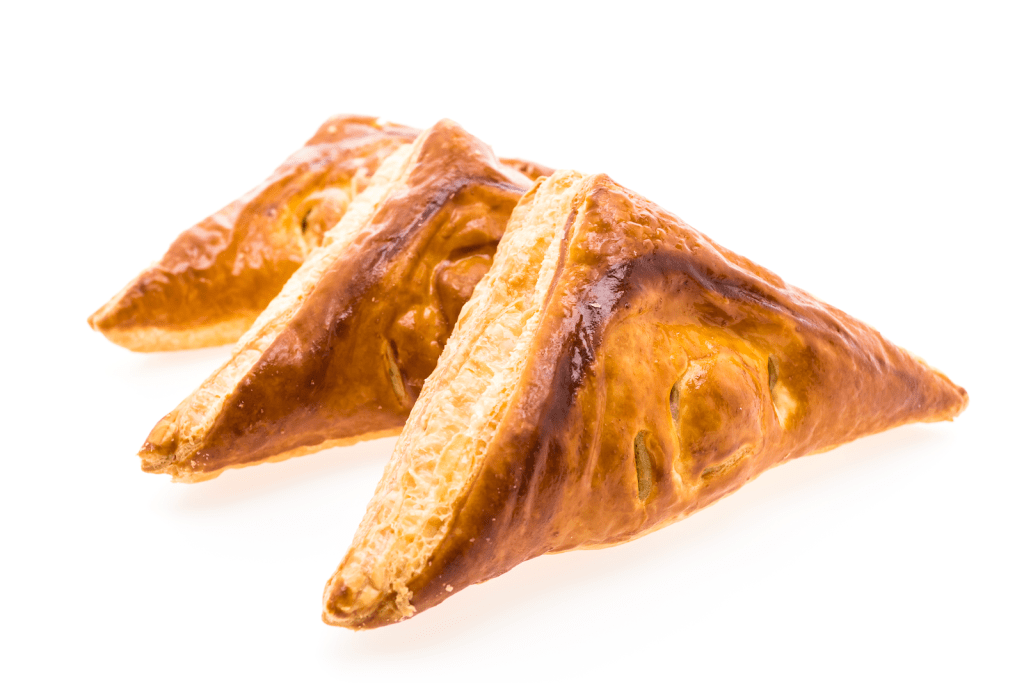 Masala Puffs are delectable Indian treats that are fluffy and crispy. This flaky, buttery veg puff is filled with spicy potato and vegetable stuffing. You may eat this Masala Puff anytime, anyplace, as the perfect companion to masala chai.
Our Masala Puffs will soon become a staple in your pantry and a regular snack on your travels. You will have an irresistible craving for more and more of our Masala Puffs simply because they are so delicious. Vegetarians could also enjoy these masala puffs. They're great for breakfast, an evening munching snack, or an easy midday snack.
Order our Masala Puffs now and find the delightful blend of Indian spices and vegetarian ingredients. You'll please your palate as well as your taste buds!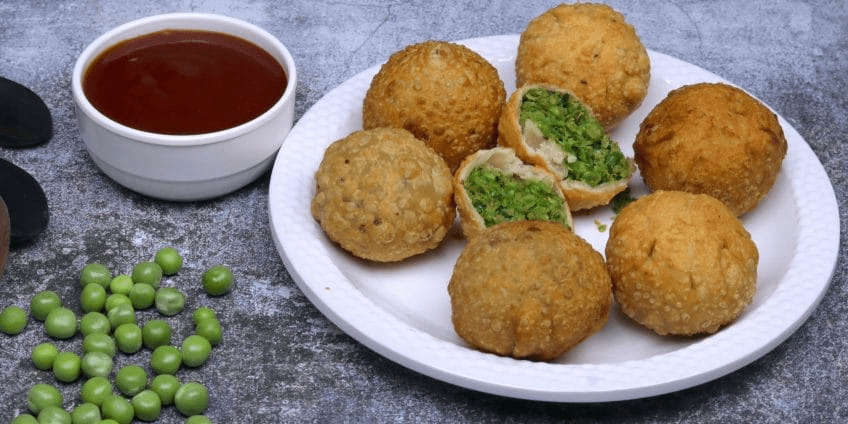 Lilva Kachori is a delicious winter delicacy from the state of Gujarat. Fresh Tuvar (green pigeon peas) is commonly used to make Lilva Kachori, famous for its crispy texture. These fresh Tuvar beans are known as Lilva in Gujarati, thus named Lilva Kachori.
Separately, a stuffing is created using fresh pigeon peas, flavorful herbs, ginger, and other spices. With this flaky, crisp crust and soft, gently spicy, sweet, and tangy stuffing, the Lilva Kachori recipe makes some of the tastiest kachoris. When eaten with yogurt, mint chutney, or sour tamarind chutney, the hot and crispy Lilva Kachoris delivers an appealing flavor combination.
In addition to being a well-liked street food snack, Lilva kachori is enjoyed at celebrations, any special events and as a sweet bite for tea. Our Lilva Kachori at Kesar Fresh Kitchen is a must-try if you want to tantalize your taste buds with a delicious blend of crunchy pastry and a tasty filling.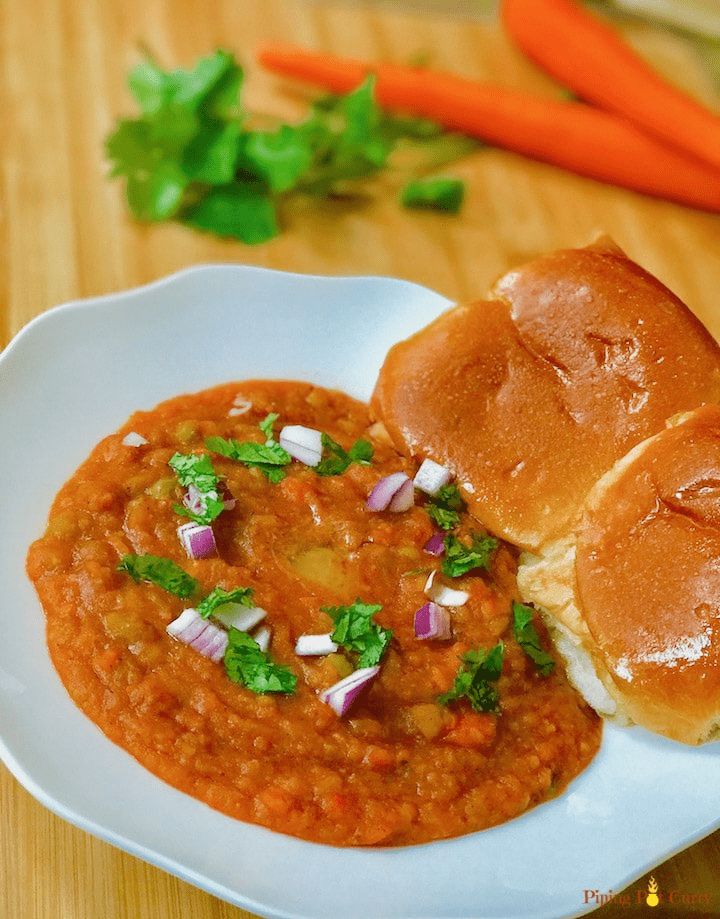 Pav Bhaji is a rich and savory street food dish that originated in Mumbai but is now becoming popular internationally. You can find it anywhere, from roadside cafes to expensive fine-dining restaurants. Any Indian food lover will surely love its lip-smacking deliciousness!
It's a spicy, tangy vegetable curry (Bhaji) prepared with mashed potatoes, different mixed vegetables, and fragrant spice blends. It's made with plenty of butter and spiced with a specific blend called Pav Bhaji Masala, which gives it a distinct flavor and taste. The Bhaji is accompanied by buttered, toasted pav (soft bread rolls) and garnished with chopped onions, tomatoes, a squeeze of lemon, and cilantro.
People of all ages adore the delectable mix of the buttery pav and the spicy, flavorful Bhaji. Enjoy this Mumbai street-style pav bhaji only at Kesar Fresh Kitchen, which will surely leave you craving more.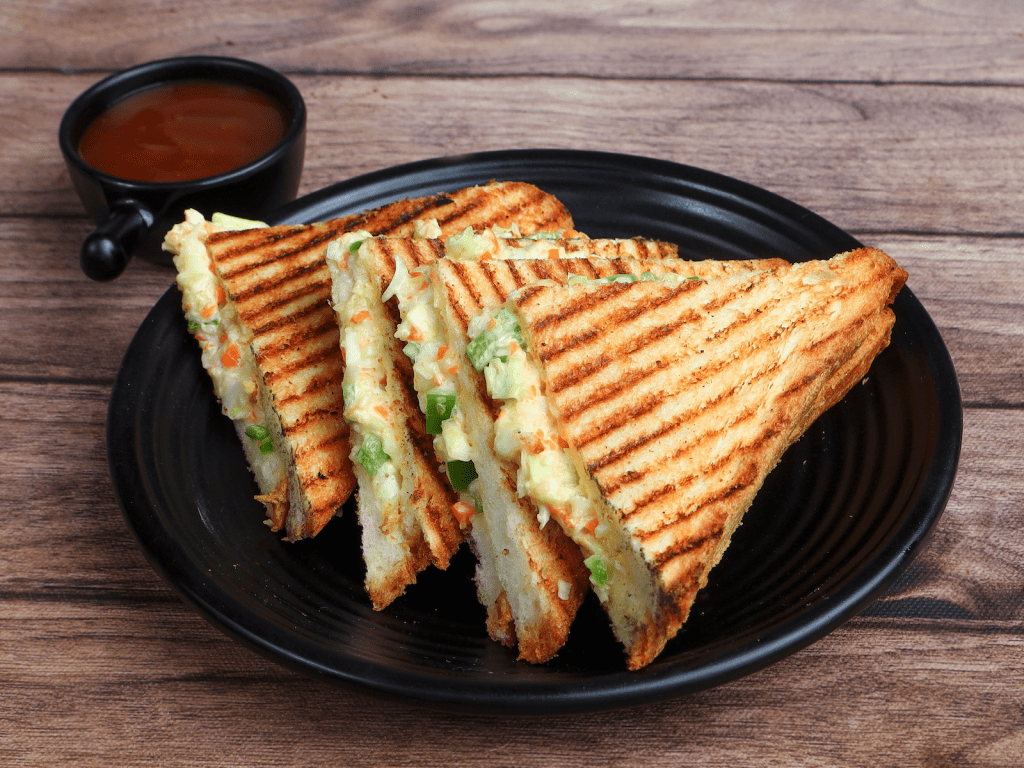 Sandwiches are a diverse and gratifying food that people all around the globe enjoy. There are many kinds of sandwiches, each with a unique blend of flavors and textures. It comprises two pieces of bread wrapped together with a variety of fillings. Its simplicity and adaptability make it an all-time Favorite, calming hunger and desires with each flavorful bite.
Sandwich stuffing can vary from classic combinations like jam and cheese to unexplored options like grilled vegetables with tangy chutney or cheese. It provides an easy, fast meal option – perfect for an on-the-go lunch or a basic evening for a child's hunger.
We offer Veg Sandwiches, Aloo Mutter Sandwich, Veg Cheese Sandwich, Cheese Jam Sandwich, Cheese Aloo Mutter, Jam Sandwich, and Cheese Chutney Sandwich at our Kesar Fresh Kitchen.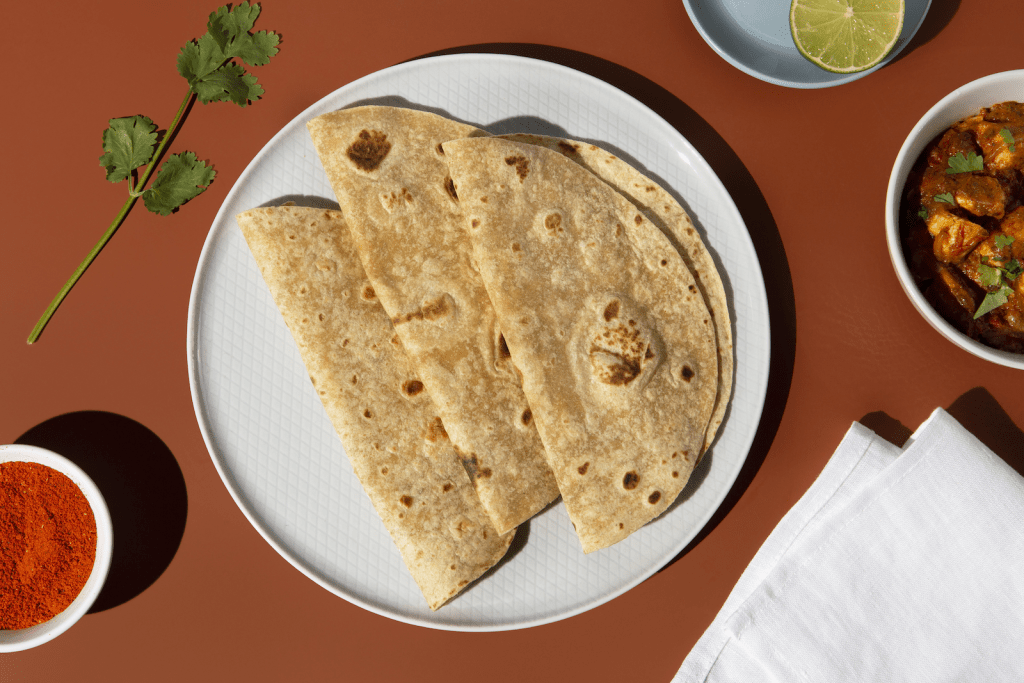 Indian flatbread, or chapati, is the staple of Indian food, and no meal would be complete without it. This basic Indian bread integrates nicely with everything as it is made with whole wheat flour, water, a pinch of salt, and ghee.
Freshly made chapatis' fragrance fills the room, tempting appetites and indicating that the meal would be fulfilling. Serve the hot, soft chapatis with a spoonful of ghee on top. This delicacy is the ideal combination of flavor and health, from various gravies to dals. These homemade chapatis are considerably healthier than Naan, Puri, or Bhatura.
Get these fresh, homemade chapatis only from Kesar Fresh Kitchen and relish every meal with warmth and comfort.
Summary
From the tasty Vada Pav and sweet Khaman Dhokla to the exquisite Samosa and fresh Masala Puff, each dish provides an amazing culinary experience that reveals India's diverse eating habits. Beyond these regular Indian savory meals, we also deliver a huge selection of sweets and desserts that are widely recognized across India.
Visit our online store – Kesar Fresh Kitchen, where you can venture on a gastronomic trip through the rich and delicious world of famous Indian delicacies. Our broad range of authentic Indian dishes wonderfully encapsulates India's prominent culinary heritage.