Frozen food is a kind of food that is being frozen rapidly and should be kept frozen until it is consumed, while preservers help the food from getting contaminated. When the food gets frozen, moist present in the food converted into ice and thus it prevents the growth of bacteria. This in turn slows down the process of food decomposition. Frozen food is an affordable way for your daily fruits and vegetable. Everyone or we can say every family is habituated with frozen food. We always buy fruits and vegetables in bulk and store them in the refrigerator, right? Nowadays not only vegetables and fruits are being frozen but also there are many things and products which are frozen. And we consume it feeling very tasty. Some expert says families who incorporate normal routine may have better diet quality. There are so many choices in frozen food so it is more convenient to find something that you like.
In this era, even during pandemics, people look for easily accessible foods that are nutritious with wholesome ingredients and frozen is the perfect category to fulfill the needs of people. We at Kesar Grocery offering customers nutrition items that they looking for and which are convenient to their busy lifestyle as well as it gets ready without extensive time in the kitchen. Our frozen food category offers healthy and tasty items that can be enjoyed by everyone; this makes sense, isn't it? As there are more and more consumers are seeking out a healthier ingredient and we have observed a general rise in the consumption of frozen food over the past several years. Therefore, we have covered all the possible items to fulfill the consumer's healthy and tasty needs.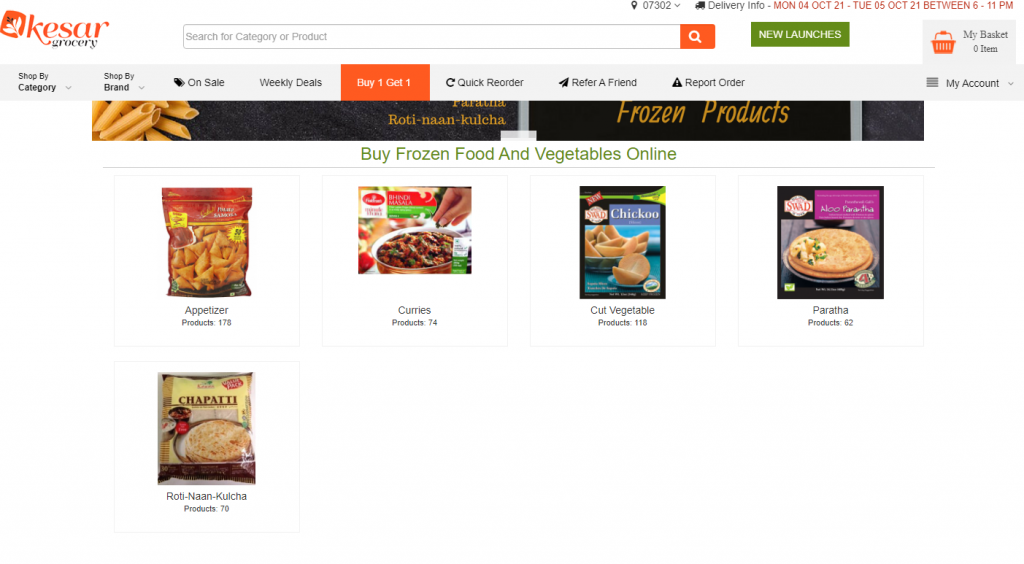 The frozen food category allows Kesar Grocery to meet the demand of the customers by providing the ethnic flavors that consumers are seeking and also keeping in mind that those items are easier to prepare whether it is roti, kulcha, naan, or tempting appetizers or yum curries along with cut vegetables. So that people can enjoy the items sitting at their own homes. Our frozen category is wisely catered to culinary trends by appealing to irresistible taste buds in an approachable way. So, it will provide more experience to the novice chefs for preparing the dish more creative and also tasty.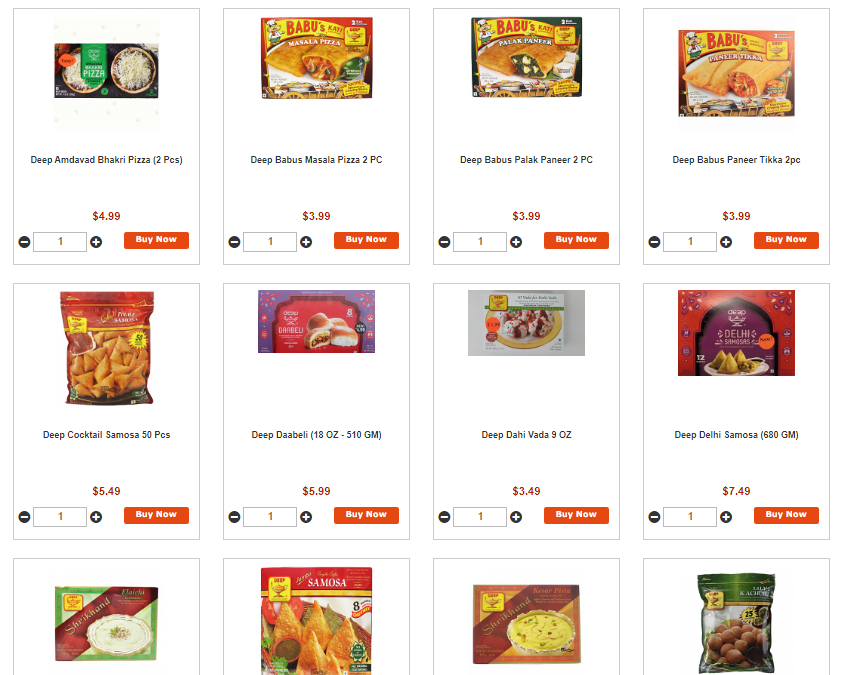 These frozen dishes are more convenient for people who are dealing with busy schedules but they also want to experience well-prepared and delectable dishes. As the Indian diet is historically large vegetarian, people continue to seek out Indian food globally. And for that, frozen foods are the perfect fit to the format for people who would love to experience new yet healthy dishes without any hesitation. The frozen food market is expanding rapidly these days and becoming more productive as well as cost-efficient. The concept of consuming frozen food is taking out it from the freezer and direct reheat on the pan or in the oven. Products of Indian companies like Deep, Haldiram, Vadilal, etc. are categorized in Kesar Grocery's Frozen section.
Now let us jump on the benefits of adding frozen food to your meal.
1. Frozen Food Reduces Waste
One of the agriculture and environmental issues in the world today is food waste and frozen can be a part of this solution. The surveys show that the average American family wastes about $1500 every year. This is huge and the cost borne by individuals as well as the society pushes the prices up for everyone. But properly frozen food is often extremely beneficial for our environment, our bodies and of course our lives. Frozen food has a much longer life than fresh so it can reduce food waste due to expiration significantly. Also, the frozen food production process minimizes the waste. Buying frozen allows you, grocery stores and therefore the entire food supply chain to waste less food.
2. Convenient And Affordable
Do you know frozen food offers a great deal of convenience? This food can be your go-to meal. It is well said that we all are being changed with time. It's the time where we can have our meals in the freezer and can truly cook them in 20 minutes or less. It is more convenient and a good alternative to cooking from scratch or eating out. Frozen food is also used out of season and you no need to worry about the quality. You just need to pull out just the amount required and leave the rest in the freezer to cook it some other time. Frozen foods are much more affordable than fresh.
3. Frozen Food Is Nutritious
One of the main benefits of frozen food is that they are picked at peak ripeness, which successively locks the food in its high nutrient content at that point. Whereas fresh fruits and vegetables have to be picked a little earlier so it gets to begin to slowly lose nutrients. This is a natural process and doesn't mean that fresh is not a good option. But freezing fresh fruits and veggies can stop the process of oxidation by easily lock the essential nutrients. In terms of calories, frozen fruits and vegetables are whilst healthy as fresh and haven't any added sodium as a preservative.
Freezing Tips:
1. Freeze foods as quickly as possible. This helps tiny ice crystals form, which is able to facilitate cut-back injury once thawed.
2. Use all products within a reasonable time. Keep a listing of food in your hand to be put in the freezer to help you.
3. Keep the freezer at -18 degrees Celsius or lower to guard food quality.
4. Do not stack packages to be frozen in your freezer: instead spread them next to every other in one layer and only stack them after they have been frozen solid.
We use frozen foods in many different ways. Choose your food wisely and make an online purchase at kesargrocery.com.